With the Red Sox having a much needed off day to rest and heal up, let's widen our focus for a minute and take a look at what is going on throughout MLB.

The AL East: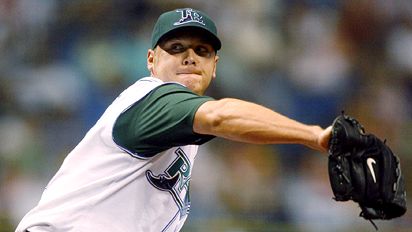 The big surprise in the AL East standings is the sight of the Tampa Bay (former Devil) Rays still in second place. We are roughly 45% of the way through the season, and they are only 1 1/2 games behind the Red Sox with a 43-29 record. The Rays are breaking all kinds of team records for wins this year, and are trying to prove they are for real. No one doubts that they have taken a huge step forward, but we all know that MLB is a VERY long season. Doubters still claim the Rays will not last through the summer heat. Personally, I hope they stay in the hunt, it will be good for baseball to have new faces competing in September for a spot in the playoffs. The Red Sox will be travelling to Tampa Bay for a 3 game series that begins June 30. That series will be very interesting as the series could very well be a battle for rights to first place. Following that series, the Sox will not see the Rays again until September when they play 3 games against them in Boston, and 3 in Florida. The question is, will those games also be a battle for first place, or will the Rays have faded into the sunset by then?


The New York Yankees have had a terrible start to their season, spending far more days in last place than the Steinbrenners would care to see. They've also spent too much energy digging up silly t-shirts out of concrete, and not enough time bolstering a ragged starting rotation. However, the players have not given up the fight yet, as evidenced by their current 7 game winning streak. The streak has allowed them to quietly move forward in the AL East standings, where they now sit in third place, 5 games behind Boston with a 40-33 record. they are within striking distance, and still have some offensive firepower. A-Rod has been lighting it up lately, as has Johnny Damon and Jason Giambi. Hideki Matsui is quietly putting together a solid offensive season and has been anchoring the lineup at a steady pace. Their big weakness is pitching, which we all know is what wins championships, so this has got to be a serious concern for them. They have moved star reliever, Joba Chamberlain, from the bullpen to the starting rotation in a seemingly desperate move to strengthen the rotation. The jury is still out on how successful the move will be, but so far so good. Joba has made 4 starts and has increased his pitch count to 100. The Yankees have won 3 out of the 4, but Joba has yet to be credited with a win as all three were the result of late inning rallies with Joba already out of the game. But, Joba's success is countered by the loss of their ace, Chien Ming Wang, who is out until at least September 1st with a foot injury. Lastly, the Yankees, apparently jealous of the red Sox resurrecting the career of Bartolo Colon, have signed Sidney Ponson to a minor league deal. Ponson was cut from the Rangers due to serious off-field problems all tied to Ponson's well documented drinking problems. The Yankees think they can squeeze out of few good innings from the boozy Aruban. We'll see.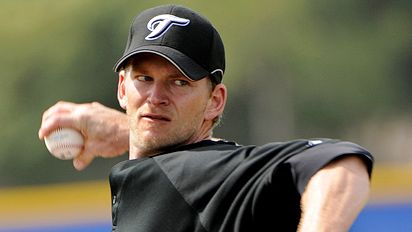 That brings us to the disappointing parts of the AL East. The Baltimore Orioles still cannot quite piece together a team that can compete. They always seem to make improvements in the off season, only to flounder once games get underway. The Orioles will not be a threat this year overall. But, the Toronto Blue Jays had been picked by many baseball experts to take first place this year. At the moment, the Jays are sweeping the basement with a 35-39 record, 10 1/2 games out of first place and currently suffering through a 5 game losing streak. They do have plenty of talent, so I would not write them off yet, but so far they, like the Orioles, don't seem like their talent has a chance to gel into a "team".

Around the AL:

The Angels and White Sox are the other first place teams, and look like they will stick around. The Tigers had been predicted to be a powerhouse, but have turned into kittens so far. But, their inspirational manager, Jim Leyland, may very well have one more kernel of magic corn in his pocket and may be able to rally the troops in time for a late season run at it. Meanwhile, the Seattle Mariners, holders of the worst record in baseball at 25-47, have just fired their manager, John McLaren. What looked to be a promising season for Seattle is all but gone.

Around the NL:


If you hadn't noticed, Atlanta Braves' Chipper Jones, has been flirting with baseball history over the first half of the season by chasing the incredibly elusive .400 batting average. On April 13 he went 3 for 5 and pushed his average over the line to .408. Amazingly, he managed to remain above .400 from that game right up until June 19, when he went 0 for 4, lowering his average to a mere .394. An exciting run, and a talented batter, but I would be amazed if he could stay at that lofty level far enough to make a real run for it. However, if he can, it would be more intense and exciting to me than the recent steroid induced home run record breaking seasons we've seen.

Overall, the NL seems to be right where it was last year, wishing it could stand up to the ever-powerful AL. In inter league play, the AL is again dominating the AL, as Red Sox fans have seen close up. The Phillies are considered the NL's best team so far, and the Sox won 2 out of 3 this past week from them, on the road, with a severely weakened lineup due to injuries. A fully healthy Red Sox lineup playing the Phillies in Fenway Park would just march over them. To further test the waters against the NL, the Red Sox will face off against two other NL playoff contenders starting tonight in Boston with 3 games against the St. Louis Cardinals, followed by 3 against the Arizona Diamondbacks. The Cardinals currently boast a 42-32 record, but are coming off of a 3 game sweep at the hands of the last place Kansas City Royals. Not the sign of a playoff contender. The Diamondbacks hold sole possession of first place in the NL West with a 39-34 record. At the conclusion of these two series, the Sox will have played every top team in the NL, with the exception of the Chicago Cubs. At that point, we should have a good idea of what kind of threat the NL can possibly pose to whatever AL team they'll face in the World Series. MLB hopes the NL representative this year can win at least one game!

Final Note - Fond Farewell to Curt Schilling:


It is true. Curt Schilling has recently experienced a setback in his rehabilitation program, and was re-examined by his team of doctors. The decision was to move forward with season ending shoulder surgery. This decision brings us full circle in the shoulder treatment controversy for Schill. Over the winter, when Schilling developed his current shoulder woes, the Red Sox, under the advise of Dr. Thomas Gill, recommended a rehab program and not surgery to treat the Red Sox ace pitcher. Schilling sought a second opinion from the doctor who had performed prior surgery on his shoulder, Dr. Craig Morgan. Dr. Morgan was firmly convinced that surgery was Schilling's only hope, and that a rehab program would only postpone the inevitable, and ensure he would not be able to pitch this season. his opinion was that, if Schilling had surgery in February, he may be able to recover in time to pitch in September, but a rehab program would guarantee missing the season entirely. Schilling's contract clearly states that Schilling must follow the Red Sox medical staff's recommendations when dealing with injury, and they opted for rehab. Schilling went along, albeit with some doubts. As his rehab went along, there were many encouraging signs, and Curt did make enough progress to recently begin throwing off of a mound. But, ratcheting up that extra notch turned out to be simply too much for the worn out shoulder, and it gave in. Score that one 1-0 in favor of Dr. Morgan.

Schilling will not be able to recover from surgery in time to pitch this season, and Curt's contract with the Sox will expire this fall. Curt has publicly admitted this may be the end of the road for his career, but he ha also stated he does not want it to end this way. If he bounces back and feels strong following the surgery, he may try to squeeze in one final year, if his shoulder lets him. However, don't expect that year to be with the Red Sox. The Sox were hesitant to sign him to a one year deal this past off season anyway. Next season Schilling will be 42 years old and rehabbing from shoulder surgery. The Sox have a pool of terrific young pitching talent. It just does not add up that there would be interest in taking a risk on Schilling next year for the Sox.


Schilling has become a true Red Sox hero. He was signed by the Red Sox prior to the 2004 season, and vowed to break am 86 year old curse. He lived up to that vow as a key component in the 2004 World Series run, and can claim to wearing the truest Red Sock in Red Sox history when he risked an experimental surgical procedure on an injured ankle tendon to allow him to pitch against the Yankees and again in the World Series, blood oozing into his sock in each outing. One of the most dominating post-season pitchers contributed to a second World Series title last year as well. We thank you Curt Chilling for pushing the Red Sox up that last part of the mountain, the part where the rock kept getting the best of us in the past. You are a part of us forever now.

(Baseball Photos Courtesy of ESPN)
(Curt Schilling Photo Courtest of CNN)